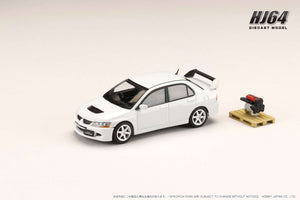 Hobby Japan HJ643054W MITSUBISHI LANCER GSR EVOLUTION 8 with Engine Display Model WHITE SOLID
Regular price $24.90 Sale
HJ643054W
1/64 Scale
MITSUBISHI LANCER GSR EVOLUTION 8 with Engine Display Model WHITE SOLID
(designed and produced by Hobby Japan. We IG corporate with them as distributor)
<NOTICE>
*Please make sure to check about our shipping and return & replacement / refund policy in advance of making an order.
You may check them from the link "- Shipping -" and "- Return & Replacement/Refund Policy -" at the bottom on this page.
*The shipping fee and customs duty/tax is not included in the product price shown. The shipping fee is to be calculated and shown to you before you check out and pay. 
For the customs duty/tax, please check to your country's customs office for more details including the import customs regulations in your country. 
*Your order is reserved with a full advanced payment by PayPal. 
*Any order cancellation is unacceptable.
*The delivery date may be subject to change. Any change or delay will be notified to you.
*Please make sure your e-mail settings to receive Ignition e-mail with domain "@ignition-hk.com".
*If you have any question, please send us your message from the link "- Contact us -".